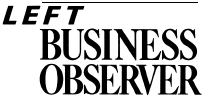 back issues (since 1990)
Here's a list of LBO back issues for the last twenty years. Articles available on this web site are highlighted as links. Info on ordering back issues is shown at the end of this page. To use this as an order form, print it, circle the issues you want, and enclose appropriate payment.

35 Perestroika I · interview: Boris Kagarlitsky on market Stalinism · creditors' strike? · CBS updates · shipwrecked Drexelites · Japan's unions go global
36 Perestroika II · South Korea: security & development · Drexel, RIP · thrift alums at the Fed · US elite & Latin America · CIA & thrifts · 24% poverty rate?
37 Financial collapse?: the drawbacks of Chicken Little-ism · Dow Jones & Co. · the Brazilian Mussolini and his austerity program
38 ecology & anxiety · deindustrialization · unreliable statistics · the new clerical work · WSJ editor to LBO: you're scum! · Thatcherism · women in Eastern Europe · Brazil update
39 globalization & fragmentation · IMF fraud update · Western Hemisphere: free-traders' play ground · Canada falls apart · rights abuses in Mexico · insurance crisis? · oil windfall · fleecing Africa · Havel plays king · Russian neofascists
40 Bush's America: empire redux or high-end mercenary? · oil market: from cartel to casino · State of Working America · inside info at the Fed? · N.A. free trade · Kagarlitsky on neo-feudalism in USSR
41